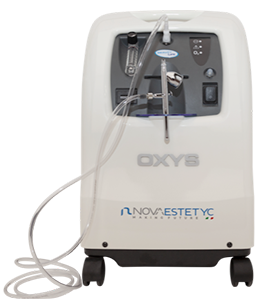 Device
IMMEDIATE LIFTING EFFECT, REVITALIZED SKIN AND LIFTED LOOK
OXYS increases the hydration, radiance and youthfulness of the skin and is a powerful solution against atmospheric aggression and environmental stress.
Oxygen treatment
The oxygen treatment owes its great success to the complementarity and synergy that is created between the application of oxygen and some specific active ingredients created for the treatment of skin blemishes.
NOVAESTETYC has created OXYS, a device able to increase the level of oxygenation in the epidermis that assists the production of elastin and collagen.
OXYS is also an effective and constant detoxifying agent for protecting the skin through targeted anti-smog treatments.